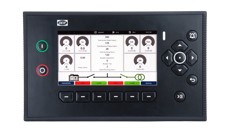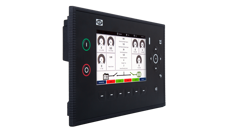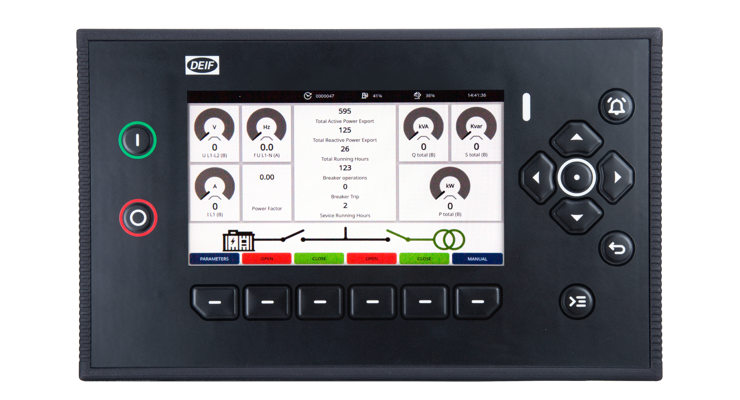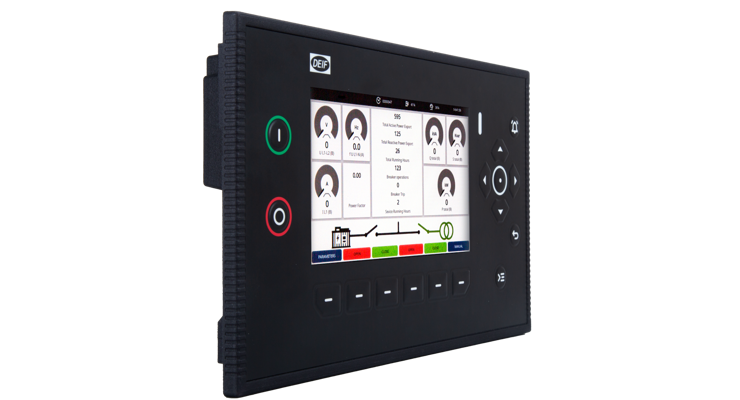 The DEIF iE 250 is a powerful, versatile, and modular controller that you can tailor to a wide range of future-proof intelligent energy control solutions. Offering an extensive range of control, protection, and supervision features, it is incredibly easy to use for designers, installers, and operators alike.
New standards in user friendliness
Thanks to the intuitive user interface, operating the iE 250 is easy. You get a quick overview via the 7" graphical colour touch display, even from a distance or at wide viewing angles, and the light sensor automatically adjusts screen brightness.
You can quickly execute basic control actions with the dedicated physical buttons, and you can navigate the controller using the touch screen, navigation keys, and soft buttons, or all of them combined – the choice is yours.
The on-screen texts can be displayed in several languages, and you can configure the built-in multi-colour LED to indicate controller status. These features set new standards in easy control and shorten training and commissioning times.
The flexibility to match any need
With the iE 250, you get just one hardware variant – and a world of flexible configuration options. It can be base mounted with a local display and/or a remote display, or front mounted with an integrated display and an optional remote display, and you can get a MIO board that provides AC measurements and additional I/O ports.
Of the 24 built-in digital I/Os, 16 are bidirectional, and the 4 analogue ports can be used as multi-inputs or outputs. You can add more I/Os using plug-in modules or by connecting to external CIO units or ML 300 extension racks with a full range of modules.
All application-specific control features are shown in flexible dashboards on the touch screen. You can customise the screen using drag-and-drop editing in the PICUS utility software, and you can configure the soft buttons to launch any feature or command.
The iE 250 comes with a core feature package that you can extend with application-specific feature packages, for example for rental, critical power, or hybrid applications – or you can select the Premium feature package which includes all controller features and ensures maximum design and configuration flexibility.
Secure and effective connectivity
The iE 250 is built for connectivity. In addition to its configurable I/O ports, you get EtherNet, CAN bus, and RS-485 communication, and the controller is compatible with the power management features of our AGC-4 Mk II, AGC 150, and hybrid controllers, making interoperability and upgrades of existing plants and fleets easy.
You can quickly connect to the iE 250 from your PC, tablet, or smartphone thanks to its built-in web server – simply log on to the same network as the controller over a cabled or wireless connection, enter its IP address in a browser, and enjoy full access to its user interface. Naturally, the iE 250 comes with built-in IEC 62443-compliant cybersecurity features.
Power to design future-proof solutions
With the iE 250, you get the edge processing horsepower to design and operate any control application. Its powerful quad-core CPU easily handles complex control applications with hundreds of controllers on the same busbar, and the MIO board comes with its own built-in processor. You can customise the iE 250 to run your own applications with CustomLogic™ and a CODESYS add-on.
The iE 250 lets you extend the limits of power control and design solutions where the only limit is your imagination.
Contact us

René Poulsen

Teamleader & Product Manager
Pre-order the iE 250
Complete the form below to pre-order the iE 250